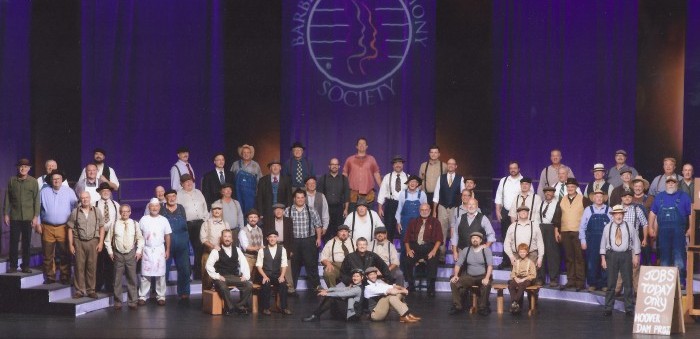 Welcome to the Great Lakes Chorus
The Great Lakes Chorus was formed in 1947 as the official choral singing group of the Grand Rapids Chapter to offer men an opportunity to learn barbershop harmony in a large group so they could develop their skills to enable them to sing in quartets. In 1952 the Chorus entered the first Pioneer District chorus competition and came away the winners. They represented the Pioneer District in the first ever SPEBSQSA (now the Barbershop Harmony Society) International Chorus Convention Contest. The Great Lakes Chorus won this contest and was crowned the very first International Chorus Champions in 1953.
The Great Lakes Chorus has been crowned District Champions 12 times since 1953. They are the current reigning 2014 district champion. The Chorus has represented the Pioneer District 18 times at the International Contest from 1953 through 2016, more times than any other Pioneer District Chapter in the history of the District.
The Great Lakes Chorus has a storied history of singing in the Grand Rapids area. Men from all walks of life, musical experience, and age come together to enjoy the fellowship of song.
Pioneer District Champions: 1953,'55,'77,'80,'83,'86,'91,'94,'97,'2000,'10,'14,'17
Pioneer District International representative: 1953,'56,'58,'81,'83,'86,'88-'90,'96-'98,'2000,-'02,'12,'15-'18
Connect with us on Facebook
Visit our Facebook page
Copyright ©2008 - 2018
Great Lakes Chorus